Other Collections
New Doors Collection 2017 - oil paintings with brass handle


Doors are the mirrors of the world. In Singapore, I have been utterly charmed by the raking light and shadows playing on temple doors in the early morning sunlight. I still feel the same emotion from the impact of the colour and texture of the doors. It appeals to me just as much when they are smooth and shiny as when they are cracked and grainy.
Doors tell us their stories, and yet, guarding their secrets closely, remain mysterious.
"Steeped in history, shrouded in mystery..."
Vintage - Collection of Mixed media paintings (collage, transfer, acrylic)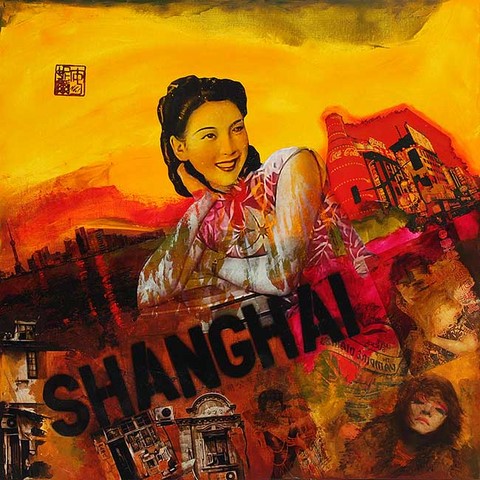 I was touched by these pre-war women, these pioneers with short hair and accentuated beauty. In the modernist atmosphere of the era, the advertising posters portray them as both independant and sexy ; they are simply beautiful. I pursue my quest for traces of the past in the major metropolises of East Asia, cities which inspired dreams of the belle époque with their stylish, liberated women, which once again inspire dreams with their modern casinos, towers and neon lights.
"Shanghai Girls..."
Slices of Life - Collection of oil paintings mixed with photographs
A camera slung over my shoulder, I criss-cross the streets and paths, in pursuit of passing time, capturing places, people and moments. I like painting little slices of life, snatched here and there. I like mixing photographs, gold paper ans small objects, anything which speaks of Asia.
"I pick to depict..."